Dr. Paul M. Thaxton, MD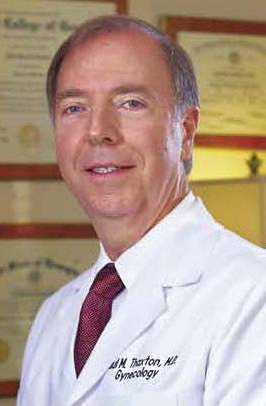 Dr. Paul Thaxton takes great pride in his more than 30 year tradition of providing and advancing women's healthcare in the Central Savannah River area of Georgia and South Carolina.

Dr. Thaxton, a native Georgian, earned his BS Degree in Chemistry with a minor in Psychology from the University of Georgia and graduated from the Medical College of Georgia. He completed his rotating internship at Eugene Talmadge Memorial Hospital, now known as AU Medical Center, and completed a residency in Obstetrics and Gynecology at MCG. He was awarded the W.G. Watson award as the most outstanding Chief Resident during his residency and started his private practice in Augusta in 1977.
Dr. Thaxton is Board Certified by the American College of Obstetricians and Gynecologists. He is also a Fellow of the American Board of Ob-Gyn as well as a Diplomat of the American Board of Ob-Gyn. In addition, he also became Board Certified by the American Society of Obesity Medicine. He was an Assistant Clinical Professor at the Medical College of Georgia for many years and has been honored numerous times with the pretigious Resident's Teacher of the Year Award. He is also past president of the Augusta Ob-Gyn Society and has been honored in the annual Augusta Magazine Best of Augusta awards program several times. Dr. Thaxton has also been chosen by his peers as one of the Best Doctors in America multiple times.
He and his wife Terri live in Augusta and have a son, a daughter and three grandchildren.
---
WHY CHOOSE ADVANCED GYNECOLOGY SPECIALISTS OF AUGUSTA?
General practitioners are just that ... general. They do a great job in what they are trained for, but a gynecologist is more attuned to the needs and concerns women face throughout their lives. For example, heart attacks are more likely to cause death in a woman than a man. Women face more hormonal changes that have effects causing irregular or heavy periods, hot flashes and night sweats, insomnia, fatigue, weight gain, forgetfulness, irritability, mood swings, anxiety and depression, vaginal dryness, decreased libido, and multiple other quality-of-life issues. Sexually transmitted diseases often have a greater impact on women's health increasing the incidence of pelvic pain and infertility. Women have unique needs and Gynecologists have specialized knowledge, training, and experience that can help you solve these unique issues in a frank and understanding way.
---